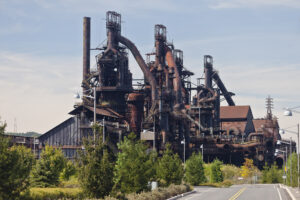 Bethlehem Steel History Tour
WHEN:
Saturday, October 16 at 10:00 am
WHERE :
Steel Stacks Visitor Center
711 East First Street, Bethlehem, PA 18015
Cost: $15.00
*Regular ticket price is $20.00. AIA Registration reduces price by $5.00.
Bethlehem Steel, once the 2nd largest steel producer in the country, helped build some of America's greatest landmarks, including the Golden Gate Bridge and the Chrysler Building. Discover the humble beginnings, monumental growth, and humbling decline of this 20th-century giant.
The one-hour walking tour features up-close views of the former steel plant and an in-depth look at the steel-making process and the roles the workers played in our country's history.