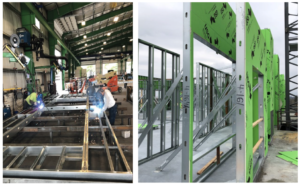 WHEN: Saturday April 17 at 10:00-1:00pm
WHERE : Klover Prefab Office and Fabrication Facility: 1121 Richland Commerce Dr STE B, Quakertown, PA 18951
Cost:
$10 for AIA, Associate, CSI, & Allied Members
$20 for Non-Members
3 AIA LU/ HSW
Klover Prefab is the Premiere Prefabricator located in Eastern PA and serving the entire Eastern US Region. This Plant Tour and educational event is planned specifically for your Chapter of the AIA. Participants will see and learn the current state of Prefabrication and BIM Modeling for Fabrication and how incorporating it will allow them to satisfy the requirements of today's projects and client demands like: Speed, Quality, Price Certainty, Job Safety, Reduced Risk and many other.
Learning Objectives:
Learn about the benefits and recent advances, trends and technologies that allow Prefabrication to grow and become the preferred method of construction.
Learn about specific knowledge related to Prefabricated Wall Solutions using CFMF.
Learn how to design with Prefabricated Walls and other solutions on your next project
Learn how Off-site Prefabrication provides quantifiable benefits of Cost, Speed, Quality
Agenda:
10:00 am: Meet & Greet with Introductory Presentation
10:30 am: Tour to include: Engineering, Estimating, Design and Fabrication
11:45 am: Review sample Mock-ups of some of the walls possible with Klover Prefab
12:00 Noon to 1:00pm Q&A with food, beverages and snacks as appropriate