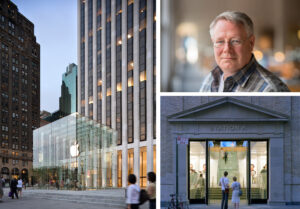 Karl Backus, FAIA Presents "The Early Apple Stores, Innovation & Influence"
WHEN: Thursday, September 16 at 6:30pm
WHERE : Virtual
Streaming link will be sent via email after registering
Pending 1 AIA LU
Cost: FREE
Donations are appreciated and will be allocated to the AIA Eastern Pennsylvania Student Scholarship Fund.
In 2001, Apple Inc. opened its first stores to the public. While modest in scale, these retail environments were ambitious in scope and offered the computer company an opportunity for expanded presence to display their emerging product line and engage with a growing customer base. Since this auspicious beginning, Apple has built hundreds of retails store worldwide and has transformed the way we shop and socialize, the way we listen and watch music, TV and movies, and the way we work-on our own creative endeavors.
Former Principal of Bohlin Cywinski Jackson, Karl A. Backus, FAIA will share his story of a 17-year collaboration with Apple and its founder Steve Jobs, while leading project teams on the design of nearly 80 stores throughout the world. We will hear about the numerous influential innovations created that would enhance one of the most successful retail development programs in recent history.