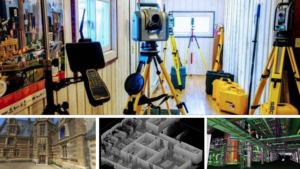 WHEN: Thursday March 24th at 5:30pm-7:30pm
WHERE : Keystone Precision Solutions, 1670 E. Race Street, Allentown PA 18109
1  LU pending
Cost:
$15 for AIA, Associate, Allied and Green Building United Members
$25 for Non-members
Description: How can Laser Scanning Enhance your Deliverables?
The method (art) of data capture has greatly changed over the years.  One of the more advanced ways of collecting data is to use a Laser Scanner.  From a Professional Land Surveyor turned Sales Consultant I am often asked how does this technology works as well as how can it be used to create deliverables.  As this technology advanced… the instrumentation is easy to use, less expensive to obtain and making users more profitable.  This session will take a look at what laser scanners are available, field and office workflows and case studies.
Learning Objectives:
Understand basic principles/workflows of Laser Scanning
Understand Laser Scanning Hardware
Recognize an application(s) for Laser Scanning
Understand possible Laser Scanning Deliverables